Boost your bottom line with our local SEO services.
If your business relies on local customers, we'll grow your visibility within your target locations.
Local SEO Services that increase customers & revenue
Approximately 46% of all Google searches are local, and 88% of consumers who do a local search on a mobile phone visit or call a store within 24 hours.
Local SEO services place your business at the top of local searches and ensure that customers can easily find you when they're in your neighbourhood.
At Martins Digital Marketing, we provide conversion-driven local SEO services to guarantee your business ranks high in local searches and achieves revenue growth. We create an effective local SEO strategy so you don't miss any potential customers looking for you!
What are Local SEO Services?
Local SEO services provide a strategy to make your business more visible in local searches on Google.
Local SEO is a great way to grow your business for any company that serves a specific geographic area or has a physical address. If you search Google for important keywords related to your business and see a map with three listings underneath (also called a map pack), you can use local SEO to help you target more qualified consumers.
Instead of standard SEO which focuses solely on increasing brand searchability on a global or national scale, local search engine optimisation focuses on "near me" search queries and geo-specific searches. Google's local SEO aims to increase your brand's visibility outside of your physical storefront and make you more accessible to local customers.
How does local SEO work?
After analysing searcher behaviour, Google discovered that people searching for specific types of business needed results only from their immediate are. For these queries, Google's local search algorithm uses a proximity factor to account for your location when you search for these particular local keywords (a query that has local intent). Even if you don't include "near me" or a city name in your search, Google still factors it in.
For example, you can order pizza for lunch at work by simply going to Google and typing "pizza delivery". It will show a list of locations near your office on its search engine results page (SERPS). However, if you do the exact search at home, it will return entirely different results. This makes sense, as you will need pizza delivered from a different nearby location.
Although the local search has existed for many years, it was not as widespread today. With mobile internet access increasing dramatically in the last decade, the number of local search queries has exploded and made local SEO vital for any business that offers local products and services.
What are the essential Google local SEO ranking factors?
These are the most important factors and how you can make them work for you.
Relevance: How well does your local listing match with the search query? Adding your complete business information on Google My Business can help Google better understand your business and match your listing to the most relevant searches.
Keep your Name, Address, and Phone Number (NAP) consistent across all business listings you sign up for, including GMB.

Target the relevant keywords when describing your business and services. Using the right keywords makes your business more likely to appear when people search for your products and services.
Distance: how far is your business from the location used in the search? If a customer does not specify an area in their search, Google will determine distance based on their location.
Accurately list all the service areas that your business covers in Google My Business.
Authority: How well known is your business? Google judges this by looking at the number of links, articles, directories and reviews your company has. Having more reviews and positive ratings, especially on Google My Business, will improve your local ranking.
Have a solid backlink profile if your business has a website to increase domain authority. Review the quality, velocity and diversity of your backlinks.

Build quality local search citations.

Create a streamlined way for customers to add reviews to your google my business listing easily.
User Experience (UX): Google measures how often users click on your listing and how much time they spend on your website. These factors show Google that your business provides a good experience for users and makes them more likely to put you higher on local searches.
Create catchy meta descriptions to increase click-through rate (CTR).

Have a website set up with easy to use site architecture.
Why is Google Business Profile so important in SEO?
Google Business Profile (formerly known as Google My Business, GMB) is a Google-powered marketing tool that allows you to control how your brand information is displayed on Google Search or Google Maps. Google My Business pages provide valuable information about your business, such as NAP, hours, website links, customer reviews, and other details that can be used to help potential customers with online searches.
Google My Business optimisation plays a vital role in local SEO marketing. Your Google My Business is an important ranking factor in local SEO. Search engines can verify the authenticity and existence of your brand by you claiming your Google My Business page, helping you to be successful online.
How to do local SEO: 7 tips to improve your local SEO rankings on google
When it comes to learning how to do local SEO, you should concentrate on these seven local SEO strategies. If you hire Martins Digital Marketing local SEO services, we will handle all of these elements and many more!
1. Optimise your Google My Business listing
Google My Business (GMB) listings contain essential information about your business and appear when people search for goods and services near their geographical location. They are critical to local customers and businesses. For example, a search for "sushi restaurants near me" shows the following results.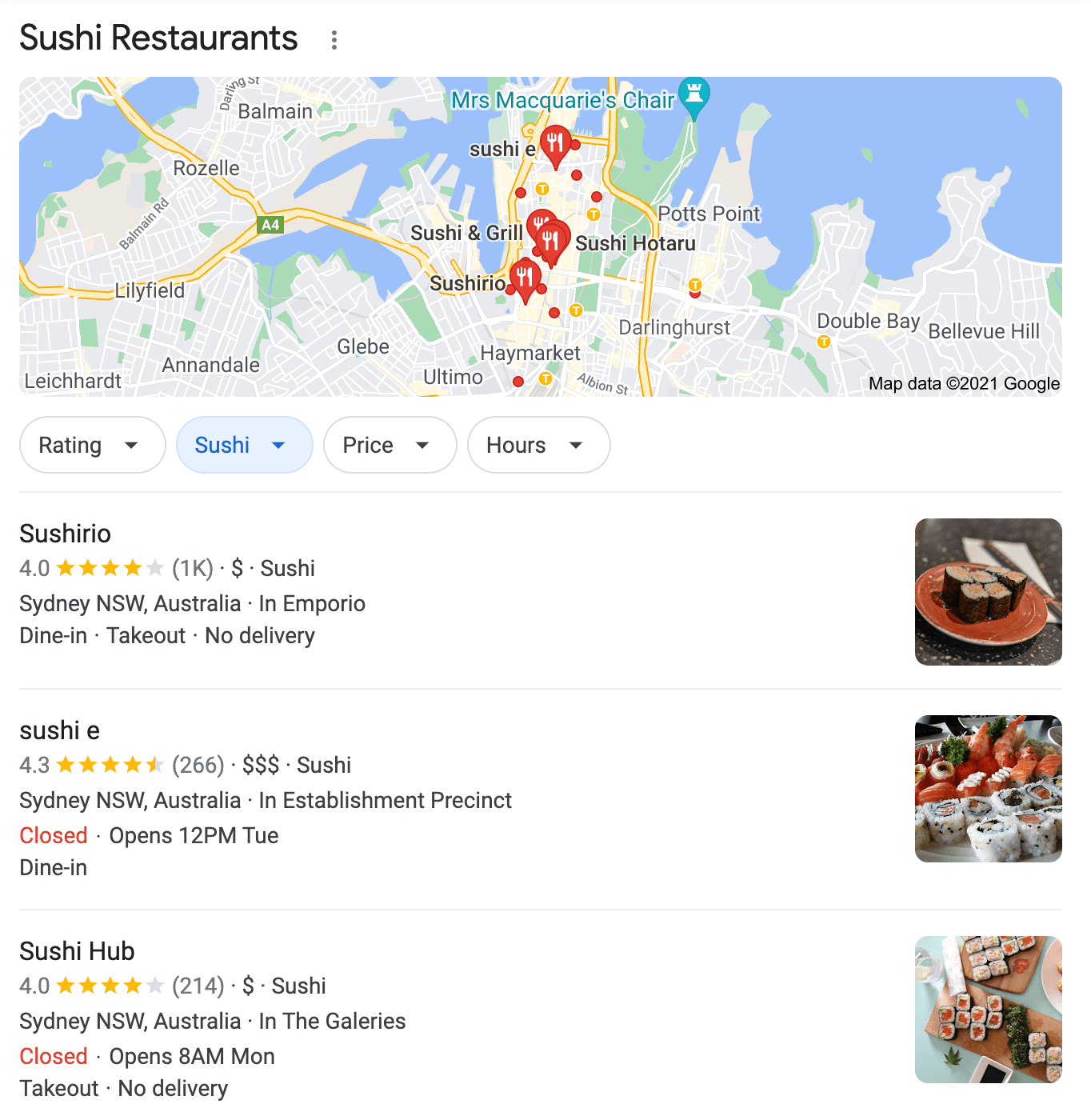 The first three listings at the top of the local rankings are Google's local SEO 3-pack. Users can see the location of the sushi restaurants on the map, and clicking the links shows you their Google My Business Listing.
These listings show the address, hours, websites, phone numbers, reviews, services, products, images and much more.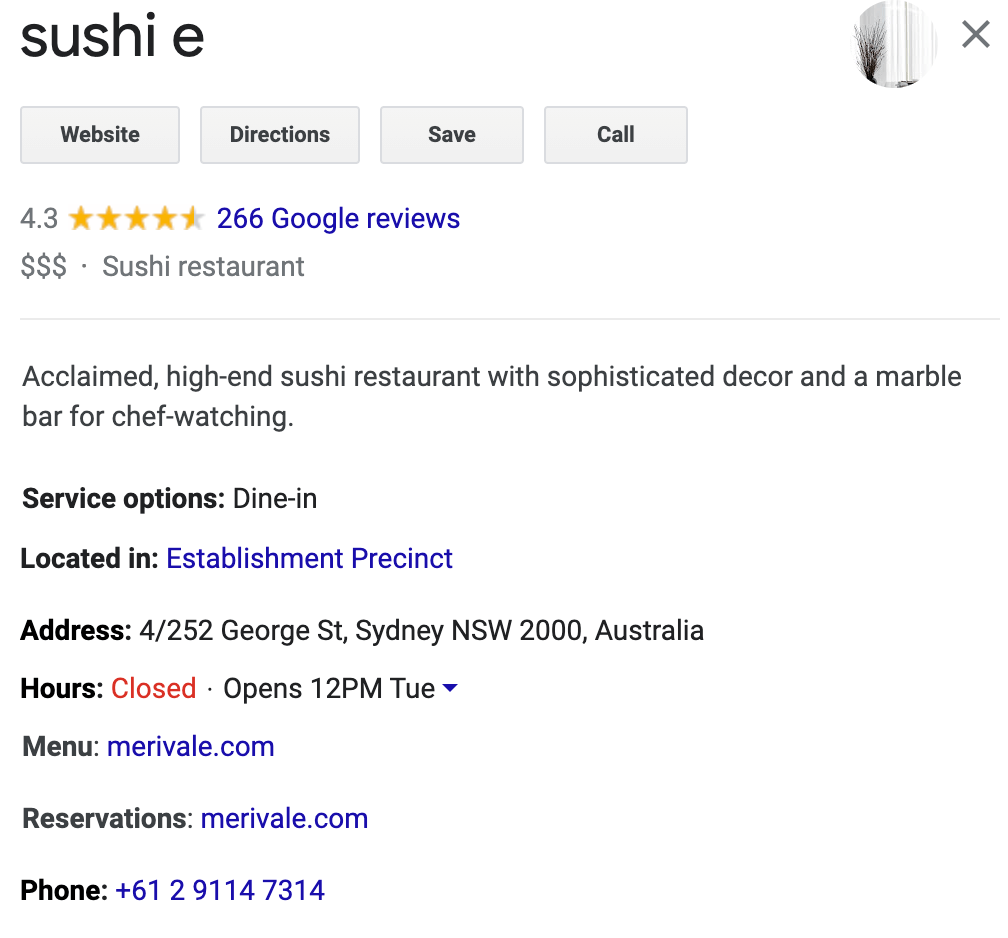 If you want your business to show up in Google's local SEO 3-pack, the first thing you need to do is claim and optimise your Google Business Profile listing. Make sure to keep your business name, address and phone number (NAP) the same across all your online directories and websites to improve the chance of getting the top spot in the local search rankings.
2. Target relevant keywords

To appear first in local search, you need to target keywords on your website and content using local keyword research.
For example, suppose a law office in the Sydney area wanted to rank high in local search results. In that case, they could optimise their page titles, descriptions and content to include the following "Best Sydney Law Office", "Award-winning Sydney law offices", or "Top Sydney Law Offices."
You can also create location-specific web pages on your website. For example, creating a new page for "Sydney Law Services" showcases the types of services you offer to customers in that location.
You can help your business show up more often on local search results pages by targeting location-based keywords, where more people can contact and buy from you.
If you need help finding keywords, you can use Google's Keyword Planner to find keyword suggestions to use and focus on those with the highest search volumes and relevant to your business.
3. Apply mobile responsive design
More than half of all search traffic comes from using mobile devices. Often users are searching for information as they're on the move, especially with local businesses. A website with a responsive design can show up easily and perform well regardless of what device users use to browse it.
Check out Google's mobile-friendly test tool to see if your website is mobile-friendly. If you don't like the results, don't worry; Martins Digital Marketing offers mobile responsive solutions that help you optimise your user experience (UX) and rank higher in the local search results.
4. Link building
Getting backlinks from trustworthy local businesses can also help to increase your local search rankings.
How does a website get backlinks? You can start by creating valuable content using targeted local keywords associated with your business. If other websites like the content you've made, they will link back to your website in their content.
Google analyses backlink data to determine the amount and quality of backlinks on your websites when ranking in local search. It's crucial to have a solid backlink profile, including links from trusted businesses in your local area.
5. Build local search citations
Local citations are online references to your business's name, address, and phone number (NAP). These can be on local business directories, map apps and social media.
You can sign up individually for these listings and directories, or you can let Martins Digital Marketing have your business listed or updated on 50+ of Australia's top listings, including Apple Maps, Facebook, Bing, Foursquare, True Local, TripAdvisor and many more.
6. Monitor ratings and reviews
Reputation management is crucial for local businesses. Not only do positive ratings and reviews help convince new customers to buy from you, but it's also a ranking factor for Google to decide who should rank highest on their local searches.
It's essential to keep an eye on and respond to online reviews, keep your reviews updated and answer customer questions and comments. People usually look at reviews before visiting local businesses, and positive reviews will build trust and encourage more customers to visit your business.
Ratings and reviews can appear on many third-party websites like Google My Business, Nextdoor, and Facebook. Positive or negative, you should reply to all reviews, so customers know you take their needs seriously.
7. Analyze user experience

It's essential to provide users with a great user experience (UX) on your website to attract and retain local traffic.
If your website doesn't provide a positive experience, visitors won't hesitate to leave quickly, and your bounce rates will increase. High bounce rates signal that your website has bad UX, and search engines will rank your website lower.
To improve your site, UX makes sure to streamline your website navigation and internal links to make it easy for your visitors to find the information they're looking for. Also, make sure your website is fast with proper hosting and clean code. And include visual elements and new content that engages users and keeps them coming back.
Why is local SEO important?
Local SEO is an excellent approach for small businesses, as they rely on local consumers to help them grow.
Wondering if you should be using local SEO services? By focusing your SEO on the local market, you can take your little fish out of the big pond to be in a much more realistically sized pool. Here are your reasons to start:
-Increase Online Visibility and traffic
Google's top 5 results collect 67.6% in user clicks. This excludes the paid ads that appear at the top.
Chances are that your customers don't know you exist if your business doesn't appear in the top 5 positions or on page one.
Customers are the most essential factor in your company's success. Place yourself where they are. Local SEO techniques will allow you to rank higher in organic search results and increase your chances of being found.
Local SEO can make your business stand out even if it doesn't have a website.

Drives more traffic to your premises via online leads.
-Community Building
Both businesses and consumers realise the importance of creating a community and maintaining the local economy. Your business will see positive results online and offline if it makes an effort to connect and network with other local businesses.
Not only is it a great way of increasing your rank, but it also opens up the possibility for mutually beneficial working relationships. Referring your customers to the relevant services will make them more inclined to do so.
Referrals will be more trusted by your clientele and are more cost-effective than visiting businesses in their local area.
-More Relevant Traffic
72% of local searches result in an in-store visit within 8kms distance of the user. By targeting local customers, you're increasing the chances that more people may come and visit your place of business.
-Create Local Returning Customers
Consumers increasingly see the value in supporting their local economy. Shopping locally is also a lot more convenient. With local SEO, you'll have two critical points of contact for nearby customers.
Firstly, they'll discover you through local search and stop by, where you'll provide them with an incredible experience and win them over as a customer.
Secondly, when they need your services again, your business name will show up at the top of their search, trigger their memory of your excellent service, and create a happy returning customer.
-Build Trust and Authority
Consumers believe that companies that rank highly on Google have been evaluated and are considered trustworthy businesses.
By earning the top spot on the results page, you help your customers trust your company and gain their respect. The top spots also reinforce your business as an authority in your relevant industry and make you more appealing to customers.
-Reduce Ad Costs
Organic traffic is an incredibly valuable audience for all businesses. While paying for PPC services is a fantastic short-term way to raise your visibility, it can become very costly to use as a long-term strategy. By building your organic audience through local SEO, you can reduce your paid ad spend and use Google as your free advertiser to get more valuable clicks than a paid search ad.
-Increased Sales
An increase in the relevant traffic leads to an increase in sales. Since local customers are already prepared to buy, showing up as an authority in your local area will increase your chances of being the company they choose to do business with.
If they're not quite ready to buy yet, they'll be encouraged by your proximity and availability and will keep you in mind next time. Instead of finding businesses far away with only online buying, they can get to know you as a local and drop by.
Custom local SEO services designed by the Martins Digital Marketing company
Every local SEO plan with our SEO experts will include the following:
-Local keyword research and strategy
Keyword research is arguably the most critical part of any SEO campaign. It's vital to know what terms are important to your industry. What keywords your target audience is using to search, and what terms your competition is already targeting.
We perform wide-ranging keyword research and analysis to identify location-specific, industry-relevant keywords and organise them by search intent for you. Once our local SEO team have mapped out your specific search terms, we create a guide to help you develop locally-themed website content or develop the content for you, depending on your custom plan.
At Martins Digital Marketing, local keyword research is included with every local SEO plan.
-Google Business Profile set-up and optimisation
Having a Google Business Profile is the ultimate tool for local SEO. It'll be impossibly tricky for your business to show up in local results without one.
With a Google Business Profile, users that search a keyword that's connected to your business will be served a lot of handy information about your business.
Information that's provided with a Google Business Profile in results pages includes but is not limited to:
Physical Address

Hours of operation

Website Link

Directions Link

Average rating based on Google reviews

Phone number

FAQs about your business

"People also search for"

Photos of the inside and outside of your business location

Business Categories

Products
-Address added to current website pages
Adding your address to current website pages is a must if you want site visitors to have the easiest time finding your physical location.
Are you confused by HTML? Don't be worried! Adding your address to your website is included in every Martins Digital Marketing local SEO service.
-Copywriting with locally optimised items
When it comes to SEO, content is king. With any of our customised plans, you'll get between one and three website content pages per quarter targeted at locally-optimised keywords, images and other media.
-Titles and meta descriptions (for five keywords)
Don't worry about having to create catchy title tags or meta descriptions. Every plan includes title and meta description creation which helps increase clicks to your website.
-Dedicated account manager
When you work with Martins Digital Marketing, you'll always have a dedicated account manager.
At Martins Digital Marketing, we always assign a dedicated account manager to every business. We want all our clients to feel understood and well taken care of. This is why we provide each client with a dedicated account representative, regardless of what service they have bought.
Your account representative will begin by learning more about you and the business. What number of locations do you currently have? Do you plan to expand?
We will also ask questions about your business to help us understand what we are marketing. We'd like to know about your target audience and where you live (do you ship internationally?). How long have you been in business?
We will also look at your competitors to see how they market their businesses to make sure you stand out from the pack.
We will also ask questions about other marketing strategies, such as email newsletters, social media, and traditional marketing techniques. It's okay if you don't do any marketing at the moment.
-Google My Business monthly reporting
You'll get a report on how your Google Business Profile is performing as well. It will show you how many people see your profile and what actions they're following up with, like visiting your website or giving your business a call.
-Local SEO Audit
Our local SEO agency executes a thorough local SEO audit to find out your current local SEO rankings, gain actionable insights into what is working and what isn't and create your local SEO checklist to be implemented in the future for success.
We check your NAP visibility and pick out your ideal geographical location and services areas.
We will also audit your Google Business Profile listing, reputation, reviews, landing pages, local citations and organic links.
-ECommerce SEO
Get the best local SEO services to connect your brand with current consumers in your area. Research shows that approximately half of all consumers use mobile searches before shopping. Our local digital marketing agency optimises your business profile on Google My Business, leverages keywords and geo-targeted content, builds citations for your local business, and help manage your online reviews.
-On-Page Optimisation
Is your website optimised to your target locale? Martins Digital Marketing offers local search engine optimisation services that include on-page optimisation. We will make sure that your site ranks high within your area. We can optimise your site's homepage and metadata using geo-specific keywords. Also, we create industry, service and city pages, set up social media signals, and implement local SEO best practices throughout your site. Local SEO services also apply local business schemas on your web pages, making it easier for search engine spiders to find your brand offerings and target locations.
-Link Building
Get our affordable local SEO services to expand your digital footprint. We are one of the top local SEO companies and ensure that search engines find an accurate representation of your business on the internet. Our SEO company can create hyperlocal SEO landing pages and build your local SEO citations. We also leverage keywords with high domain relevance and launch email outreach campaigns. To attract the best links to your business, we use GMB SEO and local linking best practices.
-Business Citation Management
Local SEO citations are a way to link to your business name on another website. Martins Digital Marketing's local SEO specialists use third-party websites to create local citations for your business. Your brand is added to second-tier business directories such as Angie's List and FourSquare. Our local SEO company will also search niche directories relevant to your industry to maximise control over your online presence.
-Content Planning
You can create and publish relevant local SEO content to grab the attention of your target audience. Our local SEO team comprises local SEO experts and industry professionals who work together to create a helpful local SEO guide for your content marketing.
Local business SEO services include guest blogging, keyword optimisation, and local content optimisation. We provide quality content and attractive titles that drive traffic to your website.
-Google Analytics Reports
Our local digital marketing agency uses Google Analytics to monitor your local SEO performance, identify visibility problems and offer data-driven local SEO tips that will help you improve your campaign results. Your local organic search metrics are monitored and measured, including website traffic, bounce rate, page views, and average session length. After tracking all metrics, the local SEO specialist organises Google Analytics results to give you a clear overview of your campaign performance.
How long does local SEO take to see results?
SEO is not a "one-size fits all" approach. The factors that determine how long it will take to see results will vary. Many factors can impact the outcome of your investment. These include the age of your website, your Google My Business, and what past efforts have affected your SEO.
Technically, results can happen in as little as 4-8 weeks with minor adjustments. If your website already has a Google listing, you have the correct categories set, and your website already has some built-in authority.
How much does local SEO cost?
The honest answer is that it depends on factors that are unique to each business. These are the main factors that affect local SEO pricing.
-Citations and links
Citations are references to your business that include your NAP (business Name, Address, Phone Number) and are used for local rankings. Consistency is key to citations that rank well. All citations on the internet must be consistent for the best results.
Google also considers the value of links pointing to your site when determining rankings. Google will consider the link to your website valuable if it thinks the referring site is authoritative, trustworthy, and popular. This is a halo effect that helps your site rank higher.
Local SEO professionals will spend much of their time developing good backlinks because of the high value they provide. SEO will be more costly if you need more backlinks to grow your domain authority.
-Number of locations
You will need to spend more on improving your rankings the more locations you have. Local SEO requires that each location be treated as an individual business. Each location must have its own local citation consistency, unique contents, and web pages.
-Amount of products or services
Local SEO includes researching keywords potential customers might use to find your products and services. Costs increase based on the number of products or services you offer since multiple keywords must be included in your content and optimised throughout your website.
-Your competition
Do you have a niche that is not well-known, or are you the only business in your locality to offer a specific service or product? It's easier to stay ahead of the competition in local search results if you are in an unusual niche or one of a few businesses in your local area to offer a particular product or service.
However, if you have many direct competitors, you will need to spend more on local SEO. To improve or maintain your position, you will need to have more links and more relevant content to maintain or improve your spot.
-Previous SEO history
It can take time to get rid of old SEO bad practices that have been in place for a long time if you have an established company but a website with poor SEO tactics.
If your business has been online for some time but hasn't invested in SEO, you will have a slight advantage. However, it may still take several months before you can get significantly higher local rankings.
Building a positive local presence online will take time if your business is brand new, but you can see some early gains if you don't have a lot of local competition.
TLDR; Benefits of local SEO services:
Boosts sales and revenue.

Local SEO can make your business stand out even if it doesn't have a website.

Build brand recognition.

Drives more foot traffic to your premises.

Increases targeted website traffic.

Increases qualified leads.

Higher conversion rate.

Local searches are increasing, with 4 out of 5 consumers using search engines to find local information.

Reviews help build trust with local consumers.

Build and manage a credible online reputation.

Increases local community outreach.

Optimised Google Business Profile listing.

Repeat business from loyal customers.

High-authority local business citations.

Higher local SEO ranking.

Enhanced Google Maps visibility.

Reduced advertising costs.

More phone calls and website inquiries from potential clients.

Increases trustworthiness and authority.

Can post important news and updates.

Gains consumer trust.

Provides accurate business information.
Time to Get Local
Local SEO is a great online marketing option by increasing your online local visibility and creating a more trustworthy profile. Stop spending time and money chasing unrealistic competitive markets and focus on building meaningful relationships right where you need them, at home.
Ready to optimise your local SEO but need help? Martins Digital Marketing understands that simultaneously running a business and optimising local SEO can wear away at your sanity and productivity. Get in touch with us today, and let us do the work of creating an effective and profitable local SEO campaign to take your small business to the next level.
Add a header to begin generating the table of contents